SNATCHED 4.0  is a medium-thick lash, starting off really short on the inner corner with the curl of each lash hair lifting gradually throughout the lash band.
Lash Size Chart
- Lash Band Length = 3.3cm
- Inner hair length = 5mm 
- Mid point hair length = 11mm 
- Outer corner hair length = 19mm
MODELROCK x KRYSTAL K SNATCHED lashes have been hand crafted to ensure each individual lash hair is positioned on a 45 degree angle to the lash band, allowing it to give you the perfect cat eye effect! The outer end lash hairs have an accentuated curl to further lift your eyes up and outwards leaving you feeling so snatched!

**Adhesive NOT included - Adhesive Can be purchased separately**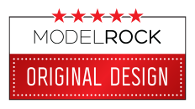 **Sizing charts are an indication of approximate length - as all of our lashes are 100% hand-made the length 'can' differ just slightly due to the hand-made nature of the product**